Who is online?
In total there is
1
user online :: 0 Registered, 0 Hidden and 1 Guest :: 1 Bot
None
Most users ever online was
28
on Sun Mar 01, 2015 6:25 pm

Player's name: Tidemist
Character's name: Tidemist
Gender: female
Character's age:312
Soulname: Sehyrn
Tribe: Seafolk
Tribal Position: Chieftess
Appearance: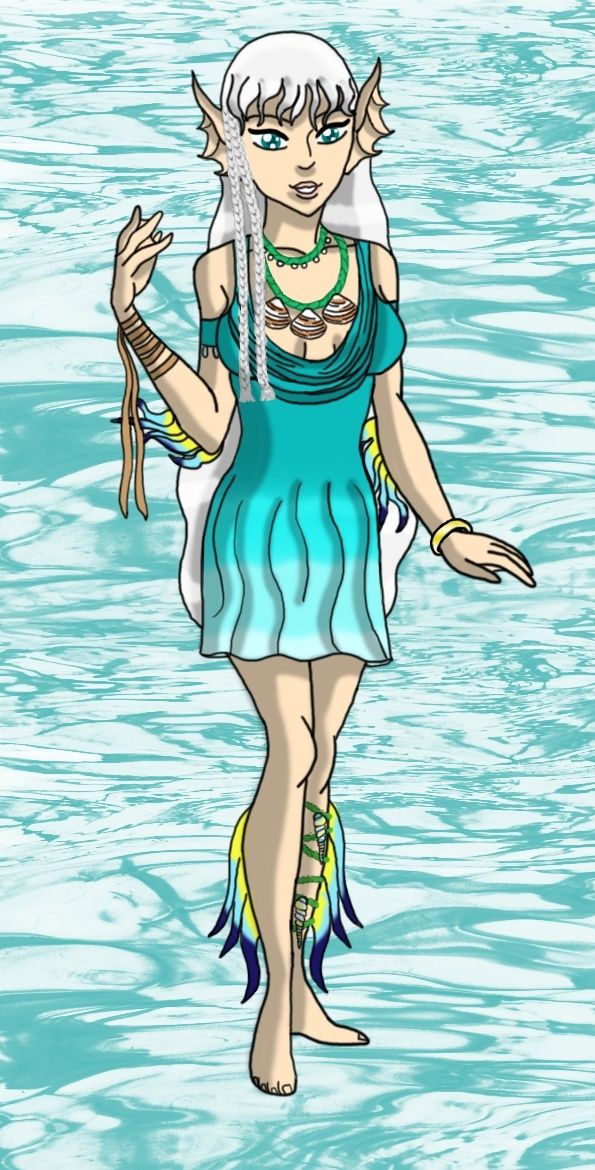 She used to have loose hair, but after learning about the WolfFolk's chief's tails, she was fascinated with the idea of a chief's mark and braided two strands of hair in front of her ear, deciding this will be her chief's mark now. She also has gill slits by her ribs
Body Build: Slender, willowy
Usually Seen Wearing: A dress with cut out shoulders, colored teal that fades to white. Also wears two seaweed woven necklaces, the shorter one has dangling pearls and the longest has three shells hanging from it. ties a strip of light brown leather from the WolfFolk around her left arm. she also twines more seaweed around her right leg with two shells dangling from it.
Weapon preference: A spear
Magic:Floating, minor watershaping
Family: Father- Shieldreef(deceased) Mother-Lapisblaze(missing). No lovemates yet.
Personality: Usually found smiling, she enjoys being Chieftess and helping her tribe prosper. She gets along with most folk, and unlike some of her tribe, she is rather fascinated by the WolfFolk and often approaches the edge of the forest to watch them, despite getting scolded by one of the elders who fears she may recognize a WolfFolk. Enjoys sitting on the rocks by the ocean or floating over the water and watching the fish or any creature that swims by. She sometimes gets a little over excited but is usually able to reign herself in fairly quickly. She also tends to be a bit forgetful and loses track of the time easily.
Likes: Fruit, sky watching, talking with the WolfFolk and learning about their history, hearing stories from the Tidekeeper, collecting shells, spear fishing, examining the deep water
Dislikes: seaweed touching her feet, coconuts, daggerteeth, people who are unable to bend, sunburn.
Skills: swimming, spearfishing, weaving seaweed cords, seashell collecting and diving.
History: Tidemist was born as the only child of the previous chief, Lapisblaze. She was also born floating, and was kept tethered with rope through the majority of her childhood, as she had a habit of trying to float off. When she got too big to be harnessed to someone, eventually one of the elders decided to just tie her to a rock that was too heavy to fly with, and that sufficed until she was mature enough to not go flying off.
After she matured, she began training under her mother to become the next chief, and working to hone her abilities. It was during one swim that she became pestered by seagulls that she discovered she was able to manipulate the water, though not very much or for long. She began trying to train to better control this new power, though often has little use for it. She eventually found herself becoming friends with their resident High One, Kaimeta and often enjoys spending hours with her when there is nothing to be done. Occassionally Kaimeta will shape Tidemist a tail so she can swim through the ocean like a fish, though this does not happen too often. Tidemist will occassionally call her by a nickname of Kai, though no one else of the tribe has been allowed to do this.
Somewhere in her one hundreds, her mother went off to find the Lapis stones she had been named for that could be found washed up on the beach. However she never came back, and could not be found despite much searching. It is uncertain if she simply wandered off, or if she was killed by a predator. Tidemist refused to become chief until after a few years after her mother's disappearance, though she still hopes her mother will come back to the coves some day. She often finds herself midly fascinated by her WolfFolk counterpart, and talks to them the most often out of the entire WolfFolk tribe, interested in what stories they had of the things they had seen, and the way they view the world.
Chieftess




Status

:


Posts

: 770


Join date

: 2014-07-21


Age

: 28




---
Permissions in this forum:
You
cannot
reply to topics in this forum